The Best State Fair from Everywhere
State Fair - The Disneyland State Fair
You'll be humming the parade song for days after watching this DVD. Hey it beats humming It's A Small World.
This DVD is full of entertainment, from a State Fair parade, a Pig Race at Big Thunder Ranch and The Wizards of Rad at Videopolis.
Watch the parade in front of City Hall. See everyone all dolled up in their 1900's dudes as they celebrate Disneyland's State Fair.
Snow White, Alice and Minnie Mouse make homemade pies
Join in on the fun at the ticket booth to Guess the Age? Of Gepato and the Evil Queen
Chip and Dale as apples roll all through the float
An amazing drum majorette does cart wheels as she leads the Disneyland Band
Join Mickey on the Gazebo float that invited a Governor from each 50 states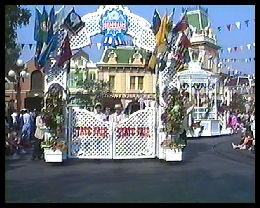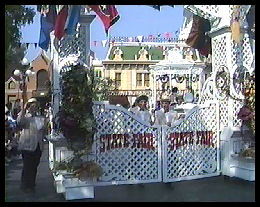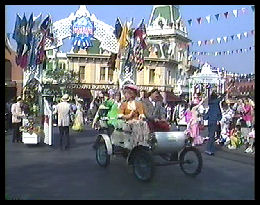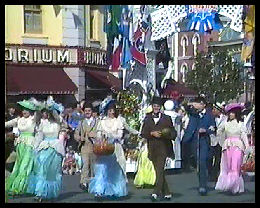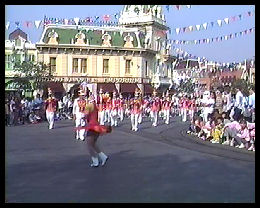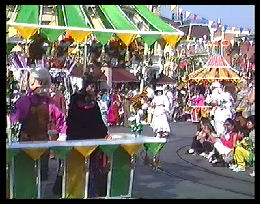 Then you see a small clip of a beginning parade, which featured the then Governor of California (no not Arnold) George Deukmejian, along with his wife and Miss California.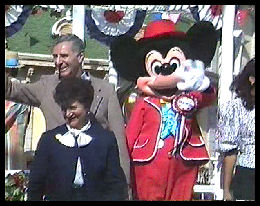 Stroll through Big Thunder Ranch to view the Pig Hall of Fame.
Sooey Pig! It's off to Pigmania
You will see Billy Hill before he was Billy Hill. Or maybe just a distance cousin Farley Barley, along with the Barley brothers. Billy or Farley is the star of the Big Thunder Ranch show called Pigmania. Sooey Pig! You'll be sitting in his section as he teaches you how to cheer your pig on during the race.
Yes Disneyland had a pig race, with real pigs. Join the Big Bad Wolf and the Three Little Pigs along with the beginning of Billy Hill and the Hillbillies in this fun filled, action packed, sing-along and laughs during Pigmania.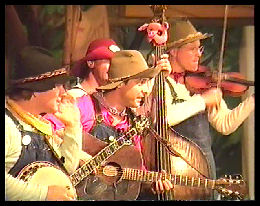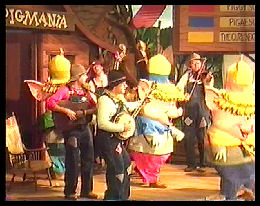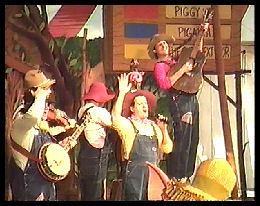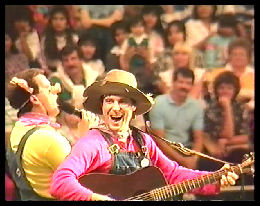 Next head on over to the then Videopolis stage to join the Wizards of Rad. Watch as they do tricks on their bikes and skateboards along with a band to keep tempo. If that isn't enough - Goofy joins in on the fun and does his on trick riding on a bike to prove he is the true Wizard of Rad.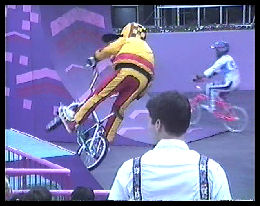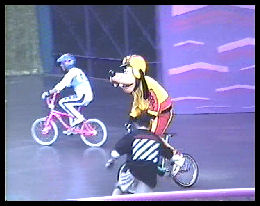 Finally a quick look at the Ferris Wheel in front of the train station, then a sample of the old parking lot with another view of the Ferris Wheel.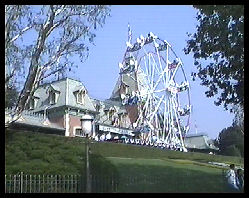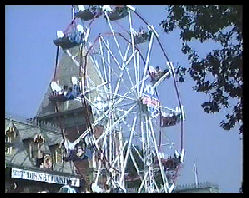 This DVD runs a little over 1 hour. See a bit of Disneyland history - not in still photographs on the web - but live on your own TV.