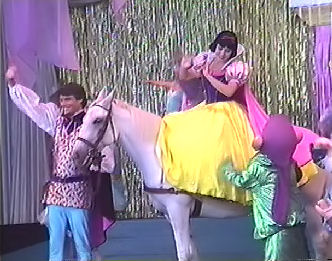 THIS IS AN AMAZING DVD OF THE ONE AND ONLY
SNOW WHITE CELEBRATING HER 50TH ANNIVERSARY (1987/1988)
THIS DVD HAS THE FULL SNOW WHITES' 50TH PARADE
AND
SINGIN' AND DANCIN' HI-HO
AT THE "NEW"
VIDEOPOLIS STAGE
(now Fantasyland Theatre)
A GREAT RETROSPECTIVE AND ALSO A WONDERFUL GLANCE BACK AT
"YESTERDAY"
SEE CHARACTERS NOT SEEN IN THE PARK VERY OFTEN THESE DAYS.
AND SOME CHARACTERS YOU NEVER SEE AT ALL.
THIS IS ONE DVD AND IT INCUDES BOTH PERFORMANCES OF THE PARADE AND SHOW.
THE PARADE IS SHOT FROM THE TOP OF THE TRAIN STATION AND GIVES AND AMAZING VIEW OF THE SHOW AS IT PASSES BY
(not that it is needed as this was back in the days BEFORE
you had to fight for a seat at the parades)
AND ONE AT THE VIDEOPOLIS STAGE
THERE IS A WONDERFUL VIEW OF THE ENTIRE SHOW SHOT FROM THE SECOND LEVEL
LOTS OF CLOSEUPS AND WONDERFUL CAMERA WORK
ESPECIALLY DURING THE EVIL QUEEN TRANSFORMATION AND THE "PUPPET SHOW..HAUNTED FOREST " SCENE
YOU ARE CORDIALLY INVITED
ONE AND ALL
TO JOIN IN THE CELEBRATION...
OF THE FAIREST OF THEM ALL!
Wonderful addition for any Disney collector.
Scenes from Snow White's 50th Parade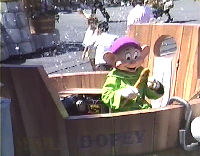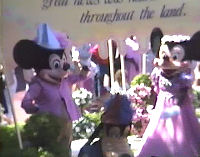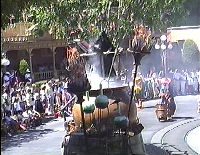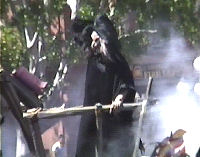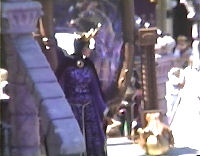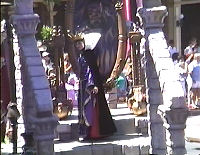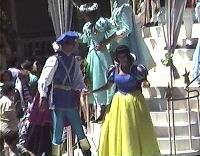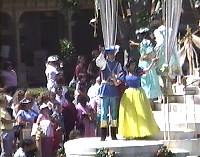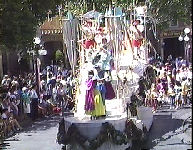 Scenes from Dancin' Singin' Hi-Ho