Harbor House 55

Back to Harborhouse55 Home Page




Let's Go To The Hop - The Main Street Hop

Now on DVD
Blast to the Past was another themed event at Disneyland. For two seasons we took a Blast To The Past as Disneyland became a sock hop! 50's music played on Main Street, 50's cars drove down Main Street, Carnation was turned into a 50's soda shop.
This DVD has the Blast To The Past Parade, The Main Street Hop and Rocko and the Rainbows (Is that Billy Hill?)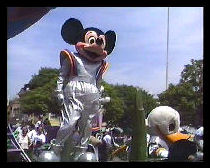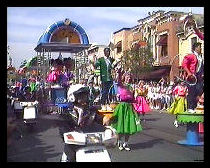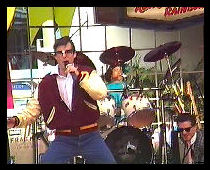 See Mickey as Flash Gordon
and
The Three Pigs as the Texaco Men
and
Lucy, Desi, Lone Ranger, Tonto, Ralph Kramdem, Three Stooges.
Even the Bears from the then Bear Country join in the parade.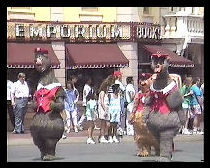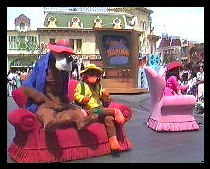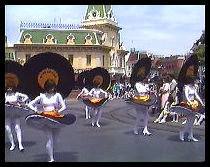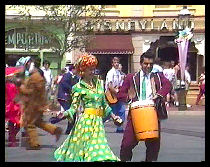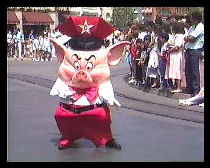 From the Emporium to Coke Corner The Hop would perform daily. Floats resembling jukeboxes would come down from both end of Main Street. Dancing to the latest oldies the audience would join in Twisting on Main Street. There were the hip dancers, Disney characters, roller skating car hops, the nerds, the leather motorcycle gang. (Disneyland style)
Each jukebox had it's on Disc Jockey. And in the middle of the show the DJ would introduce... "The one, the only". Elvis Presley. The girls would scream and out came Elvis in his gold costume.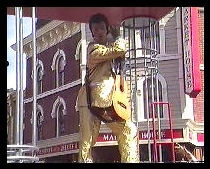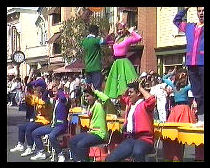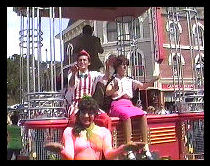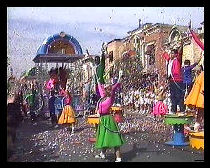 Daily Curt of Billy Hill and the Hillbillies performed at Tomorrowland Terrace in Rocko and the Rainbows. He was the nerd wanting the pretty bobby soxer.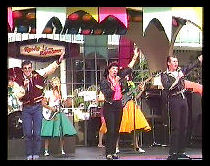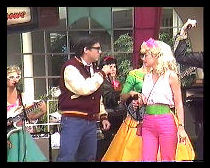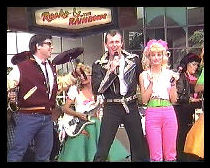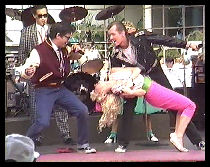 The last 2 minutes of this show is not on this DVD.